Tithonia Fiesta Del Sol 2281
Tithonia Fiesta Del Sol
Tithonia rotundifolia
Latin name
Mexican Sunflower
Common name
AAS Winner. Tithonia with a difference. Now compact and earlier blooming and a 'butterfly rest home'! Intense orange and really deserves a patio position. 2'6".
How to Grow Tithonia from Seed
Tithonia, the Mexican sunflower, loves the sun and copes well with hot summer weather and drought conditions. It is very easy to grow, perfect for new gardeners or children and its dazzling huge daisy like blooms are among the best available for attracting pollinators such as bees and butterflies to your garden.
Vibrant and ornamental, large but compact and reaching a height and spread of 3 to 4 feet, Tithonia adds velvety texture and brilliant colour to beds and borders.
Sow indoors from Feb to April, or directly outdoors in May
Sow seeds individually into 3 inch pots, at a depth of one inch. Cover the pots with plastic to retain heat and moisture, removing the cover once leaves appear. Germination normally occurs within about 10 to 14 days at 65F.
Plant seedlings outside, after gradually hardening off for a couple of weeks, once all danger of frost has passed.
For a continuous supply of cutting flowers sow a succession of Tithonia every fortnight for six weeks in the early part of the growing season. During a hot summer each planting should be blooming in about 60 days.
Beware of slugs when they are still young plants and birds stealing the seeds.
Tithonia needs full sun.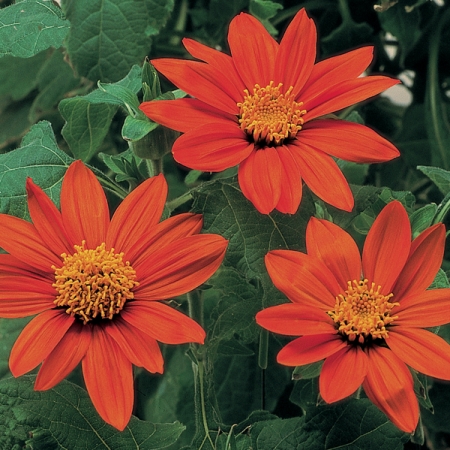 £2.65
Item Code: 2281
Variety: Fiesta Del Sol
Type: Half Hardy Annual
Packet Contains: 30 Seeds
Sow: February - May
Germination: Up to 14 days
Harvest: May - September
In stock? Yes
Other Customers Also Bought
£2.15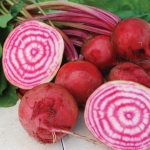 Add to Basket
Cat no: 0110
200 Seeds in packet
SOW: Mar - Jul
Availability: In stock
£2.95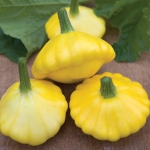 Add to Basket
Cat no: 0313D
10 Seeds in packet
SOW: Apr - Jun
Availability: In stock
£2.40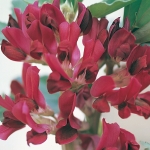 Out of stock
Cat no: 0121
25 Seeds in packet
SOW: Feb - May, Oct, Nov
Availability: Out of stock