Ammi Majus Graceland 1070a
Ammi Majus Graceland
Ammi majus
Latin name
Bullwort, Bishop`s Weed
Common name
Ammi majus Graceland is a Chelsea favourite filler for gardens and bouquets. Elegant, dainty white flowers that not only look graceful in the garden but also make a lovely long-lasting cut flower display. Large umbels of green and white turn this pretty common plant into an architectural must have. Growing to a height of around 1 to 1 and a half metres and with an average spread of about 50cm Ammi majus Graceland is ideal for the middle or back of borders. Flowering from late June through to August, it's lacy white flower heads float above ferny foliage, complimenting herbaceous perennials beautifully while attracting bees & butterflies to your garden. Ideal for cottage and wildlife gardens and an excellent cutting flower. Caution: The sap from these plants can irritate the skin and may cause blistering when exposed to the sun.
How to Grow Ammi from Seed
Ammi Majus is among the best white filler-foliage plants available, highly fashionable for cutting, lacy, elegant and simply splendid arranged in a great cloud on its own. Ammi is easy for beginners and perfect for attracting bees, butterflies and other pollinating insects.
Ammi majus seed can be sown from March to May or from late August to September.
Seeds can be sown in deep pots or growing cell trays indoors, Ammi Majus has a long taproot which is sensitive to disturbance and can be damaged when transplanting so care must be taken.
Sow 6 to 8 weeks before planting out. When first true leaves appear, transplant into larger containers. Harden off and transplant out after last frost.
Alternatively seeds can be sown where they are to flower once temperatures are around 15 to 20°C or 59 to 68°F. Surface sow, thinly in drills spaced around 12 inches apart, covering the seed to no more than 1mm deep and keep moist. Germination normally occurs within 7 to 21 days.
When large enough to handle, thin out seedlings to 20 to 30cm or 8 to 12 inches apart and provide support in exposed areas.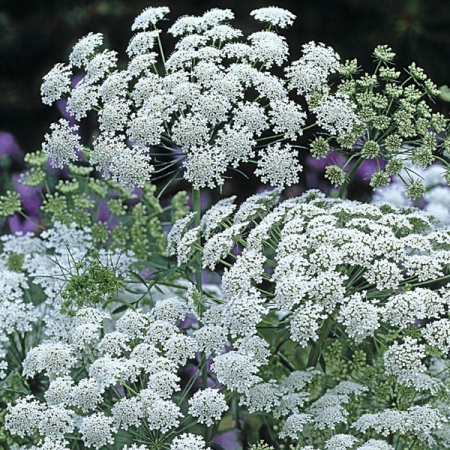 £2.35
Item Code: 1070A
Variety: Graceland
Type: Hardy Annual
Packet Contains: 200 Seeds
Sow: March - June, September
Germination: Up to 21 days
Harvest: June - August
In stock? Yes
Other Customers Also Bought
£2.25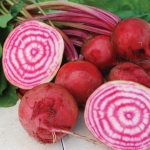 Add to Basket
Cat no: 0110
200 Seeds in packet
Availability: In stock
£3.05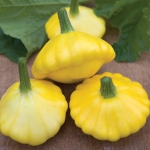 Add to Basket
Cat no: 0313D
10 Seeds in packet
Availability: In stock
£2.40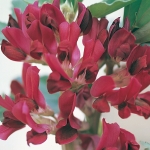 Add to Basket
Cat no: 0121
25 Seeds in packet
Availability: In stock