Streptocarpus Denim 8546
Streptocarpus Denim
Cape Primroses or strictly speaking Streptocarpus, are amongst the most rewarding of plants requiring no more than common sense attention. They flower from May well into the winter and quite often right through into the new year too. They can be used as cut flowers as well as pot plants and their colour range spans most of the spectrum.
We've teamed up with the National Collection Holder once again to offer the finest reliable collection money can buy. Strong, healthy ready to pot plants will be delivered from late March onwards by the grower.
Streptocarpus Denim is an aptly named plant as the upper petals are the colour of washed denim whilst the lower petals are a true indigo blue. An exceptionally free flowering variety and one of our favourites this year.
1 jumbo plug plant. Delivery from: Late March - October
DELIVERED DIRECT FROM THE GROWER 2-3 WEEKS AFTER PLACING ORDER
(AVAILABLE TO UK CUSTOMERS ONLY)
How to Grow Streptocarpus
After unpacking your plants, stand the Jiffy Pots in a shallow saucer of water for about 1 hour. The next day, pot on into a 3" pot with loose gritty compost and stand in a light place but not in direct sunlight. Keep just moist in a bright place. (Feed if necessary once a month with Tomato food).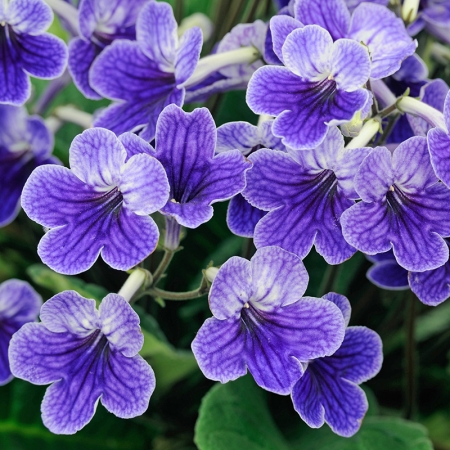 £7.95
Item Code: 8546
Variety: DENIM
Packet Contains: 1
In stock? Yes