Molucella Laevis 1929
Molucella Laevis
Molucella laevis
Latin name
Bells of Ireland
Common name
Beautiful stems of bell shaped apple green bracts which can be used as fresh fillers or dried for winter use. Alternatively leave on the plant and the elements will 'skeletonise' the stems giving it an altogether new appeal. 1 ½'. HHA.
How to Grow Morina from Seed
Morina grows best in full sun in a rich, moist but well-drained soil. It thrives in areas where mild temperatures, high rainfall and free-draining soil combine to create the perfect growing conditions.
Sow Morina in seed trays from January to March or from August to September for over-wintering. Scatter the seed thinly then cover with a fine layer of compost followed by horticultural grit. Maintain constant moisture levels without over-wetting. Germination normally takes up to 21 days at 65F. Once the seedlings are large enough to handle prick out into 3 inch pots and grow on before finally planting out in May or June.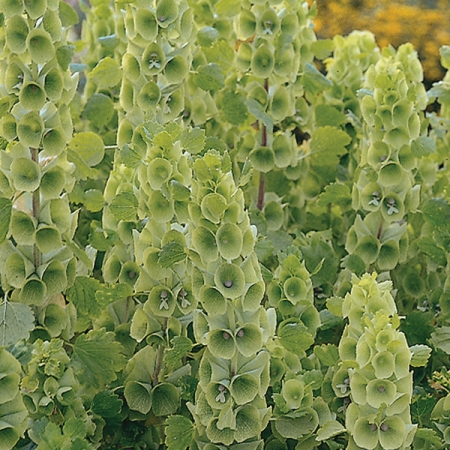 £1.80
Item Code: 1929
Variety: laevis
Type: Hardy Perennial
Packet Contains: 100 Seeds
Sow: January - March, August, September
Germination: Up to 21 days
Harvest: July, August
In stock? Yes