Eustoma Rosanne Black Pearl F1 1532a
Eustoma Rosanne Black Pearl F1
Eustoma grandiflorum
Latin name
Prairie Gentian
Common name
If you are looking for the WOW factor then look no further. One of the darkest purple Eustoma we know with outstanding aubergine ruffled flowers. Choice and rarely available. Grab the chance to grow one of the most captivating varieties we've ever seen. We only have limited stock and we don't think it will be available for long. 24-32". HA.
How to Grow Eustoma from Seed
Eustoma, Lisianthus or Prairie Gentian is a perennial but normally grown as an annual in the garden.
Eustoma, Lisianthus can be grown from seed, but is not a plant for beginners or impatient gardeners, the plants take a long time to mature into blooming-sized plants unless cultivated under strictly maintained greenhouse conditions.
Lisianthus cannot tolerate a very acidic soil pH which results in yellowing of the leaves and decreased vigour; add limestone to increase the alkalinity. Keep Eustoma plants moist, but avoid overwatering. Support rings and growing cages will give additional support to the elegant, but often flimsy stems of some Prairie Gentain varieties.
Sow Eustoma seeds from February to April in a greenhouse or propagator at 70-75F. Germination normally takes 10-20 days.
When large enough to handle transplant the seedlings into individual 3 inch pots then pot on again into 7 inch pots once they have grown to around 12 inches tall.

Eustoma prefers a full sun position.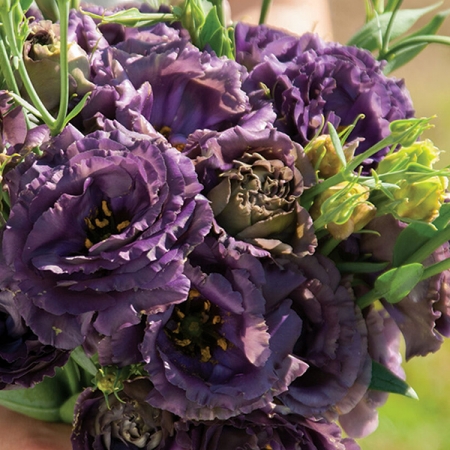 £3.95
Item Code: 1532A
Variety: Rosanne Black Pearl F1
Type: Half Hardy Perennial
Packet Contains: 15 Seeds
Sow: February - May
Germination: Up to 21 days
Harvest: July - September
In stock? Yes
£1.95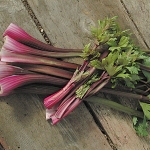 Add to Basket
Cat no: 0136C
1000 Seeds in packet
SOW: Mar - Jun
Availability: In stock