Bacopa Topia Mixed 1166b
Bacopa Topia Mixed
The world's first Bacopa from seed. A wonderful blend of pink, lavender-blue and white starry-shaped blooms perfect for hanging baskets and containers. Naturally branching and requires no pinching. 16-20". HHA.
How to Grow Bacopa from Seed
Sow March to April. Fill pots, trays or modular cell trays with a seed sowing compost under glass and sow the seed onto the surface. Then lightly cover the seed with a sprinkling of vermiculite or compost and place in a propagator or on a warm windowsill at a temperature of 20°C.
Prick out seedlings into trays or grow in modules under glass until plants are large enough to add to baskets or containers. Then gradually acclimatise to outdoor conditions for a few weeks before placing outside once all risk of frost has passed.
Flowers July to October.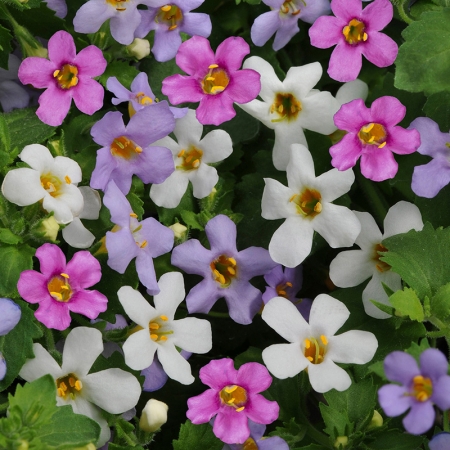 £3.95
Item Code: 1166B
Variety: Topia Mixed
Type: Half Hardy Annual
Packet Contains: 15 Seeds
In stock? Yes