Pea Opal Creek 0241
Pea Opal Creek
Climbing to a magical 6' tall and producing pastel lemon pods which hold their colour better in cooler temperatures. This unique and tasty snap pea also has very sweet and edible leaves and is ideal for growing as baby pea-sprouts in the greenhouse.
An eye-catching addition to the vegetable garden, Opal Creek Pea plants reach 180cm (6') tall. The crisp mangetout peas are best eaten young and small, either raw in salad or lightly steamed while they are still sweet and stringless. Golden yellow pods fade to yellow-green as they mature while peas left to mature and swell can be shelled. When cooked they retain a sweet old-fashioned flavour and have an unusual colouring more often associated with broad beans, a greyish green skin covering rich, dark green pea.
An unusual, hertiage or heirloom vegetable and a pea like no other.
How to Grow Peas from Seed
Peas are split into three main types, Shelled Peas, Mange Tout and Sugar Snap peas.
Mange Tout and Sugar Snap peas have sweet edible pods that are harvested at different stages of maturity. Flat-podded Mange Tout is harvested while young, whereas round-podded Sugar Snap Peas are harvested when they are semi-mature.
Shelling peas are grown for the peas inside the pods. Once the peas have been removed the pods are discarded. These peas fall into two main types, early and main-crop and are also divided into the sweeter wrinkle-seed and hardier smooth-seed varieties.
Young, fresh pea shoots are both edible and delicious, try them to salads and stir fries.
The best way to achieve a long harvest of peas is to sow successively from March onwards. Sow the seeds 2.5cm deep and 5cm apart into soil of at least 5C. Earlier sowings can be made from February using cloches to warm the soil. For successive plants sow the next batch of seed once the previous sowing has reached a height of 5cm.
With the exception of dwarf varieties and some modern self supporting types, pea plants will need staking or netting to help support them.
Early and regular picking will encourage more pods to develop.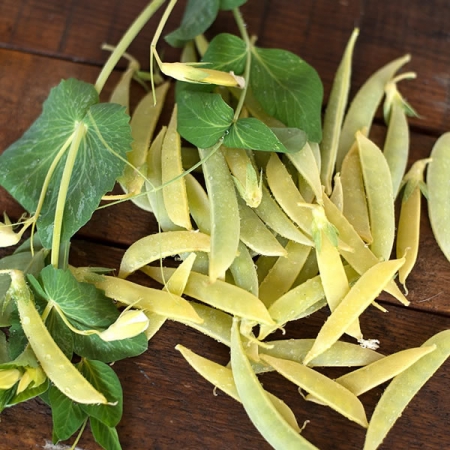 £2.60
Item Code: 0241
Variety: Opal Creek
Type: Vegetable
Packet Contains: 150 Seeds
Sow: March - June
Germination: Up to 14 days
Harvest: June - August
In stock? Yes
£2.45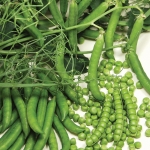 Add to Basket
Cat no: 0231C
250 Seeds in packet
SOW: Mar - Jun
Availability: In stock