Orlaya Grandiflora White Lace 1982
Orlaya Grandiflora White Lace
Orlaya grandiflora
Latin name
Delicate lacy umbels of pure white flowers, often used in bridal bouquets and makes a lovely cut flower and filler too. 24". HA.
How to Grow Evening Primrose
The pink evening primrose has large, deep-pink flowers with yellow-ochra pistils that appear all summer long. The flowers of Oenothera speciosa smell delightful!
Pink evening primroses develop in clumps and are ideal for planting in beds, along garden paths and at the edge of borders where it will bloom from June to Autumn. The flowers open in the evening hence its name 'evening primrose'.
Evening primrose is wonderful at the front of mixed borders, or in cosntainers. Loves hot, dry, sites and combines beautifully with Salvias and Yarrows.
Sow seeds in cells, trays or pots, press into the compost and barely cover. Kept at 70-75° F, germination normally occurs within 14-28 days. Thin to the strongest plant.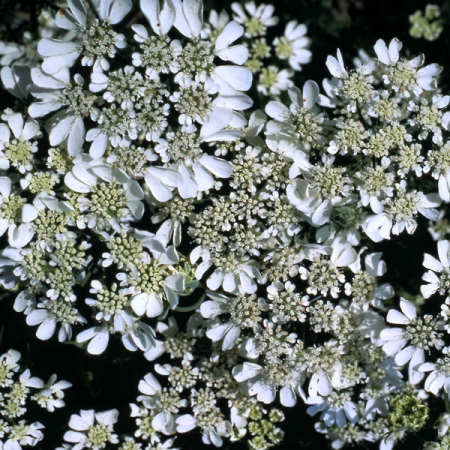 £2.50
Item Code: 1982
Variety: White Lace
Type: Hardy Annual
Packet Contains: 25 Seeds
Sow: January - April
Germination: Over 180 days
In stock? Yes