Helianthus Pro Cut Peach F1 1662g
Helianthus Pro Cut Peach F1
A wonderfully reliable addition to the Pro Cut family with gorgeous peach coloured petals and blooms that combine well with both soft or bright colours.
The single stemmed plants have tall strong stems and 4-6" pollenless blooms. and are every bit as reliable as the other Pro Cut colours. 5-6'. HHA.
How to Grow Helianthus or Sunflowers
Think sunflowers, think tall, think yellow, then think again … for instant architecture, glamorous cutting flowers or even a sumptuous flowery screen, Helianthus are hard to beat. Most of us are familiar with the huge-headed annuals. Perennial sunflowers have daintier flowers, but can be invasive given the opportunity.
Along with the sky scraping tall varieties, some of which can reach a dizzying height of 10 feet, there are also shorter varieties, which barely reach 12 inches. Alongside those bright yellow faces recalled from childhood, there are other varieties in shades of cream or white, and coppery orange through to burnished deep red. Annual sunflowers bloom from midsummer into autumn, once the flowers fade sunflowers provide a bonus crop of edible seeds, which are readily enjoyed by garden birds. Spent flower heads containing seeds are a welcomed winter bird feeder.
For tall sunflowers, sow the seeds into a modular seed tray in early March. When the seedlings have grown to two inches tall transplant them into individual 3 inch pots. Grow them inside until they reach about 12 inches then plant them out deep in the garden. Take care not to break the growing point and start tying them into a support as soon as possible.
If you prefer bushier sunflowers or want to increase the number of flowers produced, perhaps for cutting, sow as before but pinch out the growing tips once they reach about 8 inches high.
When the last frost is past transplant into a warm and sunny position in the garden.
PLEASE NOTE THE HELIANTHUS PRO-CUT & SUN-FILL SERIES DO NOT NEED PINCHING OUT.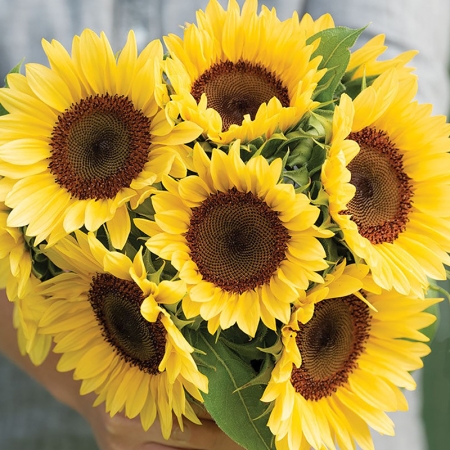 £3.25
Item Code: 1662G
Variety: PRO CUT PEACH
Type: Half Hardy Annual
Packet Contains: 20 Seeds
Sow: March - May
In stock? Yes