Anemone Japonica Rose Beauty 1074c
Anemone Japonica Rose Beauty
Anemone japonica
Latin name
Anemone
Common name
Pretty, white to rosy-pink flowers from late summer through to the autumn. The large attractive blooms are particularly appealing and are wonderful in cut flower bouquets. 2 ½ -3'. HP.
How to Grow Anemone
Sow indoors from October to March, in pots or trays of moistened seed compost. Cover the seeds lightly and place in an unheated greenhouse. Keep moist with over-wetting. Germination may be erratic, so prick out seedlings as they develop. Further germination may be encouraged by covering the trays with plastic and leaving outside to chill for 2-3 weeks before bringing them back into a warm greenhouse at approx. 15C (60F).
Pot on individually and harden off from May onwards before transplanting into theri final flowering position, spaced 40cm apart.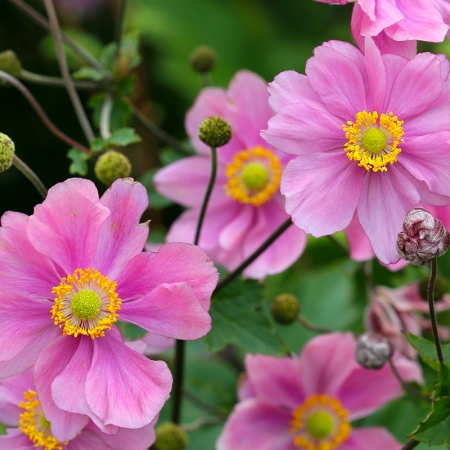 £2.75
Item Code: 1074C
Variety: Japonica Rose Beauty
Type: Hardy Perennial
Packet Contains: 50 Seeds
Sow: January - April, August, September
Germination: Over 180 days
In stock? Yes