Helipterum Pierrot 1676a
Helipterum Pierrot
With its unique black and white upward facing daisy-like flowers and papery Petals, Helipterum Pierrot is both moody and eye-catching.
Ideal for both cut and dried flower arrangements as the flowers having a long vase life and also make wonderful dried flowers too. 18-24".
How to Grow Helipterum from Seed
Sow indoors in March-May onto moist well drained compost at a temperature of 65-75 F. Germination can take from 2-3 weeks. Transplant the seedlings when large enough to handle into 7cm pots and grow on cooler. Plant out into a sunny position in the garden in May. Alternatively, the seeds can be directly down into the garden in April.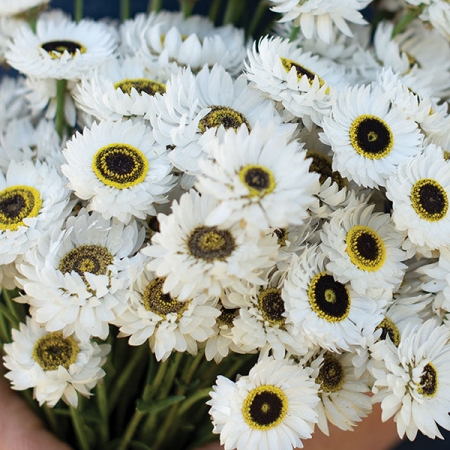 £2.15
Item Code: 1676A
Variety: Pierrot
Type: Hardy Annual
Packet Contains: 100 Seeds
Sow: March - May
In stock? Yes