Helichrysum Bright Red 1674a
Helichrysum Bright Red
Helichrysum bracteatum
Latin name
Straw Flower
Common name
With eye-catching carmine red blooms these tall, well-branched plants produce double flowers 2–2 1/2" across and are simply a must for winter arrangements. 36". HHA.
How to Grow Helichrysum from Seed
Surface sow the seeds indoors between March-May onto moist well drained compost. Cover with a light sprinkling of soil at a temperature of 75F when germination will take about 14 days.
When the seedlings are large enough to handle transplant into 3" pots and grow on in cooler conditions. After the last frost has past move into a sunny position in the garden and thoroughly water in.
N.B. For flower arranging cut the flower heads a day or two before the bud fully opens.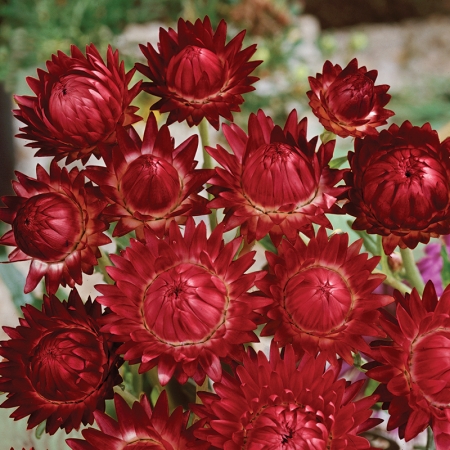 £2.05
Item Code: 1674A
Variety: BRIGHT RED
Type: Half Hardy Annual
Packet Contains: 200 seeds
Sow: March - May
In stock? Yes