Celosia Summer Sorbet Mixed 1266f
Celosia Summer Sorbet Mixed
Celosia argentea spicata
Latin name
A delightful bespoke mixture of salmon, white and pink blooms on well branched, heat loving plants. The soft pastel shades combine together beautifully for wedding bouquets and can be used either fresh or dried. 2 ½ -3'. HHA.
How to Grow Celosia from Seed
There are many different varieties of Celosia, generally grouped into two types – one of which produces a cock's comb like flower and the other a feathery plume. Many varieties are frost tender, although some are half hardy.
Sow Celosia seed in early spring in a heated propagator with a temperature of 18-23°C. Sow in moist seed compost mixed with a third by volume of perlite, covered with a thin layer of the same mixture. The seeds should germinate within 2 weeks.
Celosia seedlings dislike root disturbance so the seed is best sown in modular trays or individual pots that can be transplanted with the root ball intact, or in biodegradable pots that can be planted intact.
When the seedlings are large enough to handle, prick them out and grow on – though still be sure to maintain a temperature of around 16 degrees Celsius.
Celosia should be potted up into pots of at least 7cm diameter. Once seedlings have grown, been potted up, and their roots fill the container, water moderately but on a regular basis. If you are growing Celosia in tubs or containers it is important never to allow the plants to become pot bound. Always pot up before roots appear out of the bottom of the plant pot.
Celosia like high humidity. A daily spraying of the leaves with water throughout the active growing season will help keep the plants at the high humidity that they enjoy.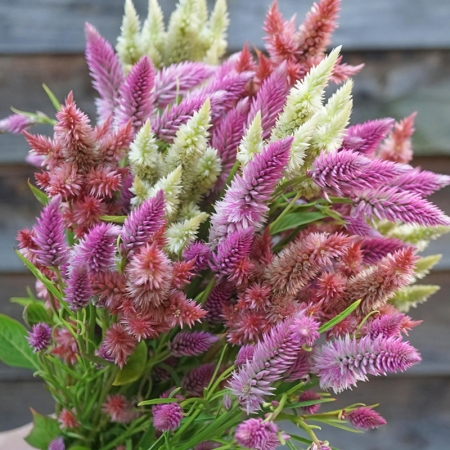 £3.50
Item Code: 1266F
Variety: SUMMER SORBET MIXED
Type: Half Hardy Annual
Packet Contains: 25 seeds
Sow: February - May
In stock? Yes