Amaranthus Coral Fountain 1065a
Amaranthus Coral Fountain
Love-Lies-Bleeding
Common name
A popular hardy annual with attractive dusky coral-pink tassels. Excellent in the border and a lovely cut flower too. It also dries beautifully for winter use. 3-3 ½'. HHA/HA.
How to Grow Amaranthus from Seed
Easy to grow, eye-catching Amaranthus is both ornamental and edible.
Amaranthus makes a good cut flower and can also be dried for arrangements The young, tender leaves taste rather like spinach and can be used in salads or stir-fries, and the nutitious, nutty-flavoured, gluten-free seeds are high in protein and calcium. Birds love the seeds too, growing Amaranthus is also a fabulous way of feeding your feathered garden visitors.
Sow under cover in early spring or directly into soil outdoors from mid-late Spring once the risk of frosts has passed. Start seeds under cover in early Spring, sowing onto the surface of moist seed compost. Avoid covering with compost as the seed needs light to germinate: use a propagator, or cover with a thin layer of perlite or polythene instead, to ensure the seed doesn't dry out.
Once the seedlings are large enough to handle, transplant into individual small pots or modular trays and grow on until sufficiently large to plant out.
Harvest the ripe seeds in late summer or autumn by either shaking the seed heads over a container or into a bag whilst still on the plant. Alternatively, cut off the seed head and hang upside down enclosed by a bag for a few days until the seeds fall.
A word of caution though, whilst cooked Amaranth seeds are fine for your four legged friend tp eat, all other parts of the plant, including the leaves, stems and flowers, are highly toxic to dogs.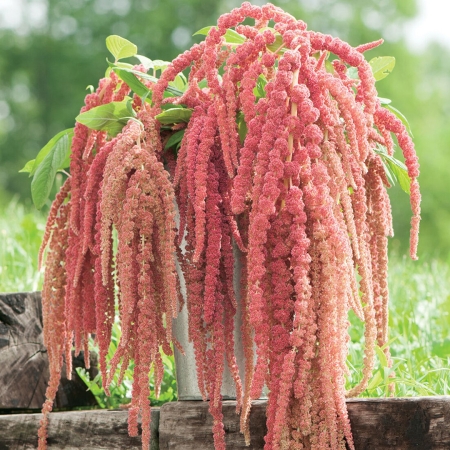 £2.30
Item Code: 1065A
Variety: Coral Fountain
Type: Hardy Annual
Packet Contains: 750 seeds
In stock? Yes