Antirrhinum Chantilly Mixed F1 1096a
Antirrhinum Chantilly Mixed F1
Antirrhinum majus
Latin name
Snapdragon
Common name
Chantilly delights with its wide open butterfly blooms and at 36 to 40 inches is amongst the tallest of Antirrhinums. These elegant butterfly snapdragons have large stylish flowers, strong stems and a gorgeous appeal. Seven fabulous colours make up the Chantilly mix including salmon, copper, lemon and several pinks.
Snapdragon Chantilly is ideal for adding height to borders and is a long lasting joy for cut flower lovers and flower arrangers Let them lean against sturdy, shorter plants in the garden or provide some support for their enormous bounty of blooms! As a superbly showy annual, Chantilly is unbeatable.
How to Grow Antirrhinum from Seed
Antirrhinum or Snapdragons delight gardeners with their showy, butterfly attracting flowers and their low-maintenance requirements. Most snapdragons are grown as annuals since they tend to die back after heavy frost, but they will grow as short-lived perennials in warmer areas. Like most spring-blooming flowers, Antirrhinums are best sown indoors approximately 10 weeks before the expected last frost date in spring.
Antirrhinums thrive in the cooler temperatures of late spring and are happiest in sunny locations with rich, well-drained soil. Under favourable conditions, snapdragons will self-sow.
Sow Antirrhinum seeds in early spring, from February to April. Sow onto the surface of a moist, free-draining seed compost, into plug trays to prevent root disturbance or into seed trays. Cover the trays with polythene to retain moisture until the first seedlings are visible. Germination normally takes 7 to 14 days at 18-21oC.
After 5 weeks, when large enough to handle, the young plants will be ready for transplanting into individual pots where they can grow on until they are nicely established. Harden off before planting out when all danger of frost has passed.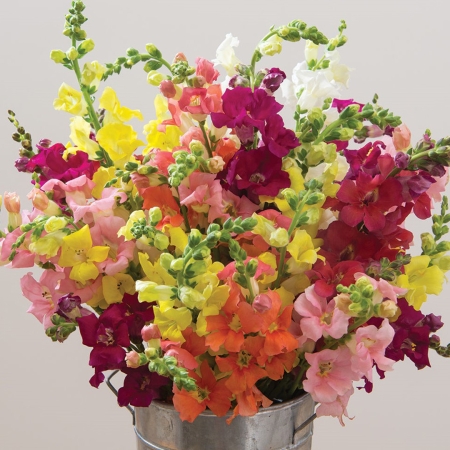 £3.95
Item Code: 1096A
Variety: Chantilly Mixed F1
Type: Half Hardy Annual
Packet Contains: 50 Seeds
Sow: January - April
Germination: Up to 14 days
Harvest: June - September
In stock? Yes
Other Customers Also Bought
£3.05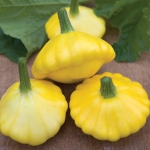 Add to Basket
Cat no: 0313D
10 Seeds in packet
Availability: In stock
£2.25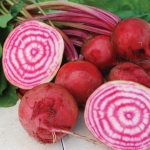 Add to Basket
Cat no: 0110
200 Seeds in packet
Availability: In stock
£2.40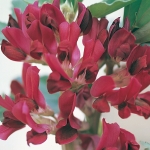 Add to Basket
Cat no: 0121
25 Seeds in packet
Availability: In stock