Turnip Goldana F1 0521b
Turnip Goldana F1
A main crop variety with tender uniform yellow fleshed roots together with an absolutely superb flavour.
How to Grow Turnip from Seed
Smaller and less woody that the large turnips of old, modern turnip varieties can be grated and eaten raw in salads or root-veg coleslaws and make a delicious side-dish, leaving the larger swede for mashing or adding to stews and casseroles.
Turnips are best harvested once they reach the size of a golf ball or a slightly larger, they become less tender and lose flavour as they get larger so sowing every couple of months and harvesting young and sweet is the favoured approach.
Turnips seeds must be sown where they will grow, as they cannot tolerate even slight root disturbance. Sow thinly directly into drills and cover the seeds with 1 inch of soil. Your turnips will eventually require 3 to 4 inches spacing, but the seed are small so some thinning is likely to be required once the seedlings are large enough, usually around 2 inches tall..
Keeping the seed bed slightly moist until germination takes place, this is normally within three to five days, then continue to water the young plants evenly every seven to ten days.
Keep the soil around your turnips weed free, but avoid disturbing the turnip's feeder roots and don't neglect watering in dry periods as this helps to avoid woody texture and split skins.
Turnip greens are edible and are best harvested when they are small 10 to 15 cm (4 to 6 inches) for the sweetest flavour, leaving the inner, less developed leaf tips to grow again, giving you a second harvest a few days later. However, if you want to harvest the turnip root, only harvest the greens once since harvesting the greens inhibits growth of the root.
Turnips are hardy to autumn frosts and may be sweetened by cool weather. A heavy straw mulch extends the harvest into early winter. Turnips roots store well in a refrigerator.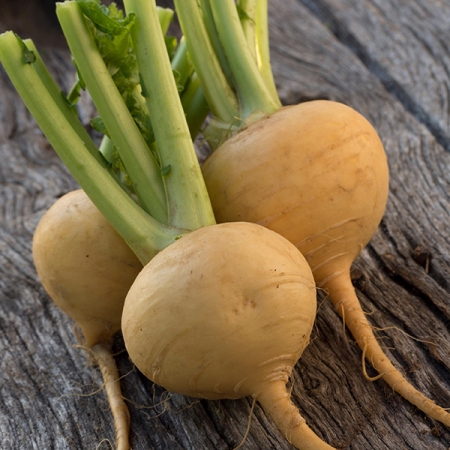 £2.50
Item Code: 0521B
Variety: Goldana F1
Type: Vegetable
Packet Contains: 200 Seeds
Sow: March - July
Germination: Up to 14 days
Harvest: June - November
In stock? Yes
£1.95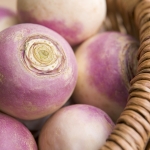 Add to Basket
Cat no: 0521C
500 Seeds in packet
SOW: Mar - Jul
Availability: In stock
£2.55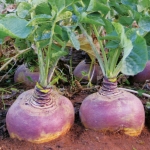 Out of stock
Cat no: 0314C
250 Seeds in packet
SOW: Apr, May
Availability: Out of stock
Other Customers Also Bought
£2.40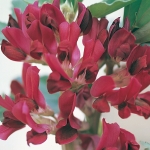 Add to Basket
Cat no: 0121
25 Seeds in packet
SOW: Feb - May, Oct, Nov
Availability: In stock
£2.95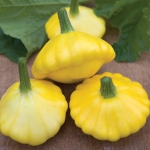 Add to Basket
Cat no: 0313D
10 Seeds in packet
SOW: Apr - Jun
Availability: In stock
£2.15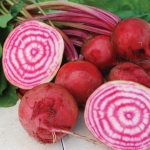 Add to Basket
Cat no: 0110
200 Seeds in packet
SOW: Mar - Jul
Availability: In stock