Orange Scented Thyme 0207
Orange Scented Thyme
Orange Scented Thyme is a delightfully aromatic garden herb, excellent both in the kitchen and as a hardy, evergreen, ground covering plant. It thrives best in well-drained light soil and enjoys a sunny, sheltered position. Trailing varieties of Thyme look great in pots, especially the golden and variegated varieties. Thyme is a low-growing perennial. It's grey-green leaves are extremely aromatic and it's tiny flowers are highly attractive to bees. Orange Scented Thyme leaves have a delicious fragrance blending balsam and oranges, which are at their best just before flowering. In the kitchen it's strong citrus tang leaves no bitter aftertaste making this an excellent flavouring herb for stuffings and casseroles. Fresh Thyme has a softer flavour than the dried herb. Drying Thyme intensifies its flavour two or three fold.
How to Grow Thyme from Seed
When grown from seed, Thyme takes up to a year to develop into a harvestable plant. Thyme can also be propagated by root division or from cuttings.
Sow Thyme seeds into small 3 or 4 inch pots from February through to May and cover with a thin layer of compost. Keep the pots warm, preferably indoors or in a greenhouse. Seedlings should emerge within a couple of weeks. Once the seedlings are 2 to 4 inches tall, and the first true leaves have grown, thin them into individual 3 inch pots ready for planting out once they become pot bound.

Gradually harden off the young plants, by moving the pots outside during the daytime and taking them back inside at night, for a couple of weeks before transferring them into their final growing positions.
Harvest sparingly during the first year allowing the plants to develop and mature.
Once established, Thyme requires very little attention. Water only in very dry conditions and avoid feeding. Container grown Thyme may benefit from a fortnightly liquid feed during the summer months
Thyme can be harvested throughout the year, however, its leaves taste best in June and July just before flowering. After 3 years or so Thyme plants become woody, at this stage they should be dug up and carefully divided to make new plants.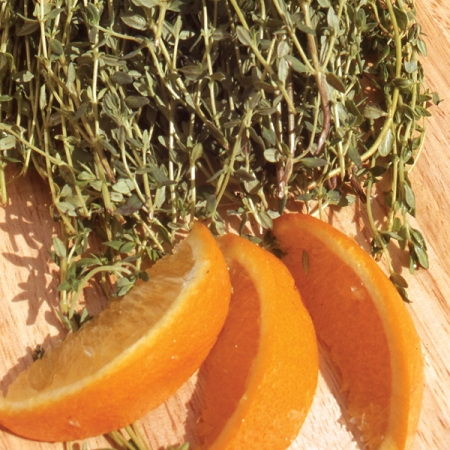 £2.25
Item Code: 0207
Variety: Orange Thyme
Type: Perennial Vegetable
Packet Contains: 100 Seeds
Sow: March, April
Germination: Up to 90 days (erratic)
Harvest: June - October
In stock? Yes
£2.15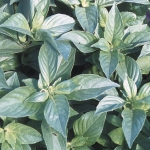 Add to Basket
Cat no: 0192
200 Seeds in packet
SOW: Feb - Apr
Availability: In stock
£2.15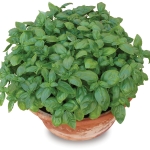 Add to Basket
Cat no: 0195C
300 Seeds in packet
SOW: Feb - Apr
Availability: In stock
£2.15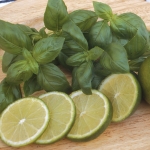 Add to Basket
Cat no: 0193
200 Seeds in packet
SOW: Feb - Apr
Availability: In stock
Other Customers Also Bought
£2.15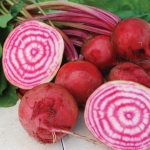 Add to Basket
Cat no: 0110
200 Seeds in packet
SOW: Mar - Jul
Availability: In stock
£2.40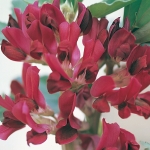 Add to Basket
Cat no: 0121
25 Seeds in packet
SOW: Feb - May, Oct, Nov
Availability: In stock
£2.95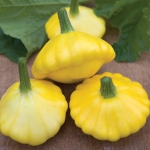 Add to Basket
Cat no: 0313D
10 Seeds in packet
SOW: Apr - Jun
Availability: In stock