Primrose And Auricula Elizabethan Gift Pack 2100a
Primrose & Auricula Elizabethan Gift Pack
Primula species
Latin name
Primrose, Auricula, Cowslip
Common name
Six varieties, separately packed provide an opportunity to remenisce and with such names as Gold Lace, Drumstick and a mixture of Auriculas who wouldn't be tempted to indulge. Note: This hand painted packet is an ideal gift for special occasions. Nowhere does nature display her vivid colours so appealingly than in the Primrose and Auricula family. Fashion dictates. Auriculas scream contrast. Green with red. Blue with greens and yellow with blue. Iridescent and irresistible would be an understatement. Mixed with Primroses in every shade imaginable, topped by Gold Laced Polyanthus and bordered by Drumstick Primulas the Auricula not only holds its own but compliments the other 5 Primulas included in the packet of SIX SEPARATELY LABELLED SACHETS
PLANTING INSTRUCTIONS Primulas by nature prefer cool conditions. Cover the seed only very lightly, water and place in a permanently shady place. When 4-6 true leaves are showing, transplant into individual 31/2" pots ready for garden planting or cold indoor use in the case of Auriculas. Very choice plants requiring to be kept just moist constantly.
PRIMULA AURICULAS Victorian treasures with no idea of colour co-ordination for they burst forth in discs of green and blue, red and green, blue and yellow to name a few. 4-6". HP. Contains 100 seeds.
PRIMULA GOLD LACE Chocolate centres with a yellow lacing to each petal. Florist's Primula. 6". HP. Contains 25 seeds.
DRUMSTICK PRIMULA Selected from out best Scottish growers. A really lovely range of ball shaped heads in shades of lilac, white, wine, red and blue. Always popular. 8-12". HP. Contains 100 seeds.
PRIMULA POTSDAM GIANTS Early flowering Primroses each with a deep contrasting eye and of exceptional health and vigour. 8-10". HP. Contains 50 seeds.
PRIMULA POLYANTHUS The 'toughies' of the Primula world. Strong stems, huge flowers in groups and a colour range from white to blue including some with a complete circle of contrasting colour. 8-12". HP. Contains 75 seeds.
PRIMULA VERIS SUNRISE & SUNSET SHADES We were the originators of this strain and many have copied. Suffice to say we continue to grow only the largest flowers or deepest red or orange colour and dwarf habit. These Cowslips are mighty hardy under any conditions. 12". HP. Contains 100 seeds.
PROFESSIONAL TIP Victorians and Elizabethans displayed the Auriculas on a 'dresser' i.e. tiered sloping shelving. Primroses look equally as good as do the Drumstick Primulas. Keep in the shade and keep watered.
How to Grow Primulas, Primroses and Auriculas
Primulas, Auriculas, and Primroses are plants for woodland edges and shady banks. As the name suggests, they are among the first flowers of spring and provide a welcome splash of colour when little else is blooming in the garden. Primroses have been popular garden plants for centuries, Elizabethan gardeners loved them. Potted primulas and auriculas make attractive, although short-lived, flowering houseplants too, but they do prefer a cooler spot. Once the flowering season ends they can be transplanted to a damp, shady spot in garden.

Seed is best sown from April to July. Germination normally occurs within 14 to 21 days at 60F in complete shade. Scatter the seed across the surface of moistened seedling compost and place the seed trays or pots into a dark cupboard to ensure absolute shade. Do not allow the sowing to dry out, even for an hour, ensure that the surface of the compost remains moist without over-wetting at all times.
Once germination has taken place, scatter a thin layer of compost over the sprouted seeds and grow on in a shady position until 6 true leaves have formed.
Transplant the seedlings into individual 3 inch pots using a moisture retaining growing medium. Plant out into the garden in late summer and early autumn or retain the pots in the greenhouse, well ventilated and in the shade for planting out early spring.
Positioning a compost filled seed tray beneath flowering Primulas where ripe seed can fall, and leaving it in situ throughout the year, over winter and into the following spring has proven to be a successful self-sowing method of raising Primula seedlings.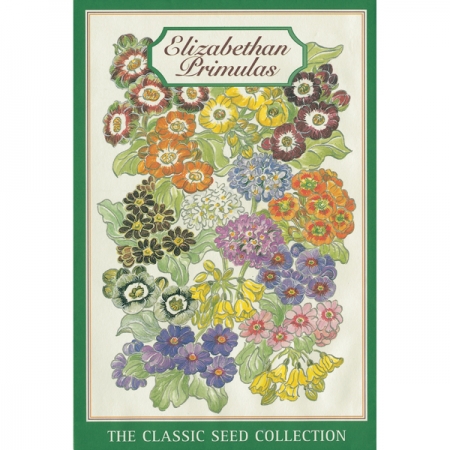 END OF SEASON SALE - 40% OFF
£5.95

£

3.57
Item Code: 2100A
Variety: Elizabethan Gift Pack
Type: Hardy Perennial
Packet Contains: 450 Seeds
Sow: April - June
Germination: Up to 21 days
Harvest: March - May
In stock? No
Other Customers Also Bought