Canna Cannova Mixed F1 1252c
Canna Cannova Mixed F1
With large tropical leaves and bright exotic flowers, Canna look absolutely stunning all summer long and are one of the most flamboyant plants perfect for pots and containers or wonderful planted into the ground as specimen plants.
Easy to grow from seed and from an early sowing will bloom from July right through until October. Shorter than traditional Canna they are suitable for every garden including small patios and are ideal in our British climate.
Cannova Mixed F1 is a mixture of green and bronze leaved varieties in a glorious range of stunning bright flowers and is a spectacular sight in ornamental containers. 30". HHP.
How to grow Canna from seed
Sow the seeds indoors from March onwards putting one seed into a 3" pot ¼" deep. Prior to sowing, soak the seeds in water for 12 to 24 hours to soften their seed coat and improve germination. Keep the soil moist at 70-75F.
The seedlings should begin to emerge in 7-14 days. As soon as the seedlings appear, provide them with plenty of light on a sunny windowsill and allow to grow on until pot bound when you can transplant into a larger container. Feed the plants when they are 3-4 weeks old using a starter solution (half strength general indoor houseplant food).
Before planting in the garden the seedling plants need to be hardened off and so move the young plants into a sheltered position outdoors for a week protecting them from wind and hot sun. Should there be a frost, cover or bring the containers indoors at night and take out again in the morning.
Remove spent flower heads to keep plants flowering until the Autumn when the roots should be lifted as they are not frost hardy. These can be stored as you would Dahlias and should last for several year.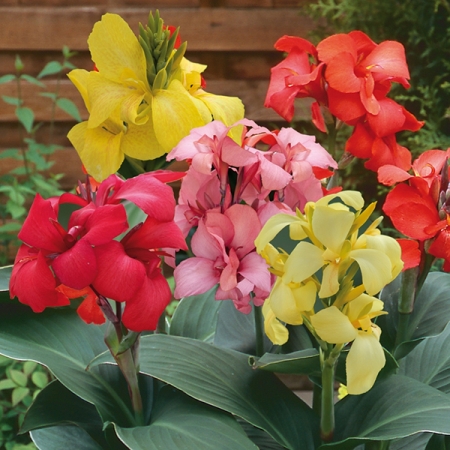 £5.95
Item Code: 1252C
Variety: Cannova Mixed F1
Type: Half Hardy Perennial
Packet Contains: 6 Seeds
Sow: March - May
Harvest: July - October
In stock? Yes