Acnistus Australis 1019
Acnistus Australis
Acnistus australis
Latin name
Sow early and enjoy masses of 2-3" Datura-like flowers in deep lilac. Fast growing and can be treated as an annual if so desired. 3-6'. HHA/HHSh.
How to Grow Acnistus Australis from Seed
Sow the seeds indoors during the early-mid Spring. Sow into individual small pots as it can be difficult to separate the seedlings if grown together. Lightly cover the seeds and keep moist growing at a temperature of 65-75F. Grow on in a bright spot but not in direct sun. Germination can take anywhere between 6-10 weeks especially at a cooler temperature
When the plants are 2-3 months old, transplant into a larger container taking care not to damage the roots. After repotting avoid direct sunlight for the first week or two until the plants have time to settle down.
The plant enjoys moderate temperatures and cool nights and so may become stressed if it experiences a prolonged period of hot temperatures and so best to keep the pots shaded in these circumstances.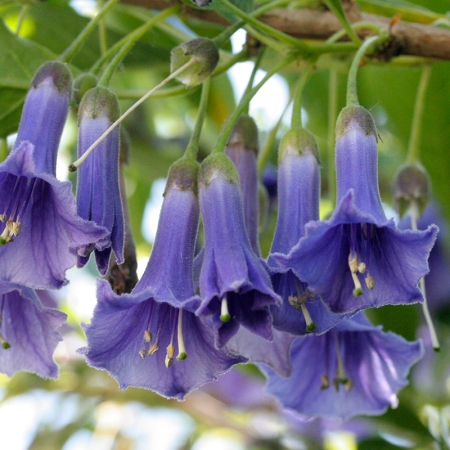 £4.95
Item Code: 1019
Variety: australis
Type: Half Hardy Shrub
Packet Contains: 10 Seeds
Sow: February - April
Germination: Up to 7 days
Harvest: May - October
In stock? Yes