Saintpaulia Whirlygig Star 8553
Saintpaulia Whirlygig Star
Saintpaulia is one of the most popular flowering House Plants and is commonly known as African Violet because it originates from Africa and the flowers look like Violets despite being unrelated.
This standard variety has outstanding single white flowers with pretty plum picotee edges.
1 jumbo plug plant
Delivery: Late March - October
DELIVERED DIRECT FROM THE GROWER 2-3 WEEKS AFTER PLACING ORDER
(AVAILABLE TO UK CUSTOMERS ONLY)
How to Grow African Violets
Good light is important for abundant blooms but keep plants out of direct sunlight. The miniature and semi-miniature varieties are best potted into 8cm pots with a good African Violet compost (a mixture of 50% peat based compost, 25% vermiculite, 25% perlite). Water from underneath but only water when the surface of the compost is dry to the touch. The ideal temperature range is 18-25C (65-80F) for good growth. Once the plants are established (6-8 weeks of active growth), feed with a high potash slow release fertiliser once every six weeks. Remove dead flowers and stems to encourage fresh growth.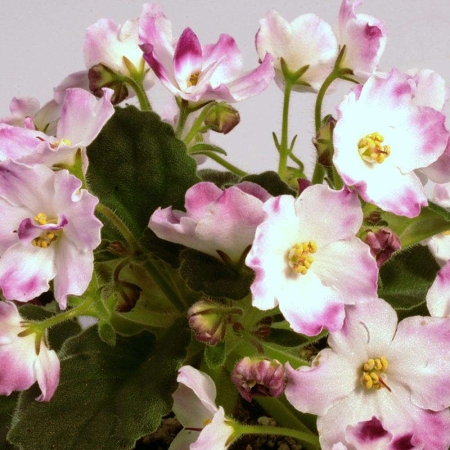 £7.95
Item Code: 8553
In stock? Yes