Achimenes Sweet And Sour 8544
Achimenes Sweet & Sour
Achimenes Sweet and Sour has striking orange-peach flowers with a yellow eye and attractive dark green foliage. GP.
PACK CONTAINS: 3 RHIZOMES
Delivery: Early February 2022 Last Orders: 31st March 2022
(RHIZOMES ARE AVAILABLE TO UK CUSTOMERS ONLY AND WILL BE DELIVERED DIRECT FROM THE GROWER 2-3 WEEKS AFTER PLACING ORDER)
How to Grow Achimenes Rhizomes
Use a peat or fibre based house plant compost and water moderately allowing the surface of the compost to become slightly dry between watering. Plants require a bright position and a temperature of at least 15C (60F) to promote compact growth and flowering. The minimum temperature is especially important when planting rhizomes.
Plant rhizomes about 2cm below the surface of the compost and water lightly. Place the potted rhizomes in a light position out of the midday sunlight. Most varieties will start flowering after about 3 months of good growth and continue blooming for the rest of the summer. When in full growth, never allow the pots to dry out completely; as the roots appear through the pots drainage holes, start feeding regularly with a high potash slow release fertiliser.
In the autumn the plants will stop flowering. Stop feeding and reduce watering; allowing the soil to dry completely as the leaves start to die back. Store the pots in a dry place at about 10C (50F). You can harvest the rhizomes from the pots and store them for the winter in a dry dark place at about 10C (50F).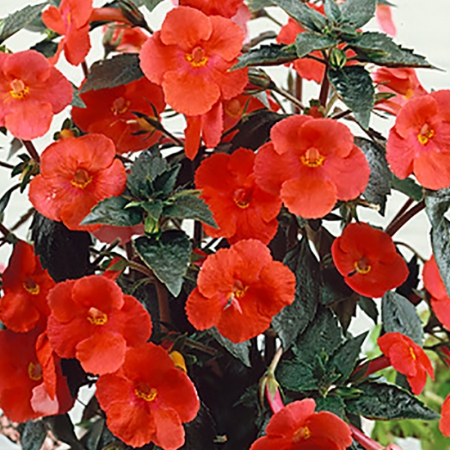 £7.95
Item Code: 8544
Variety: Sweet & Sour
Type: Greenhouse Perennial
In stock? No