Chrysanthemum Polar Star 1302
Chrysanthemum Polar Star
Chrysanthemum carinatum
Latin name
Chrysanthemum
Common name
An easy to grow, showy annual with tri-coloured flowers. Comes into its own when all other annuals are beginning to tire. Marvellous as a cut flower with large innocent looking blooms. 2'.
How to Grow Chrysanthemum from Seed
Chrysanthemums come in a whole range of sizes, shapes and colours and provide a reliable splash of colour during late summer and autumn outlasting almost everything else as winter draws in.
Chrysanthemum seeds can either be sown in Spring time or in Autumn for over-wintering. Sow in trays, scatter the small seeds across the surface of a moist, free-draining, seed compost and cover very lightly with vermiculite. Cover the tray with polythene to maintain humidity, until the first seedlings are visible. Germination takes around 7-10 days at 18-20C. Keep the germinating seedlings moist at all times.
As soon as the plants are large enough to handle transplant into large individual 3 inch pots and grow on at around 15C .
Pot up again as required or plant out after all danger of frost has passed.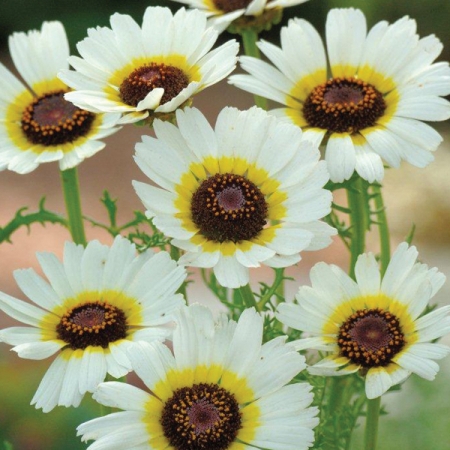 £2.25
Item Code: 1302
Variety: Polar Star
Type: Hardy Annual
Packet Contains: 250 Seeds
Sow: March - May
Germination: Up to 14 days
Harvest: September, October
In stock? Yes
Other Customers Also Bought
£2.95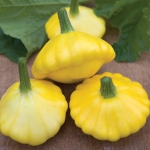 Add to Basket
Cat no: 0313D
10 Seeds in packet
SOW: Apr - Jun
Availability: In stock
£2.15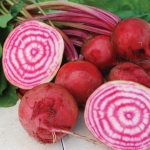 Add to Basket
Cat no: 0110
200 Seeds in packet
SOW: Mar - Jul
Availability: In stock
£2.40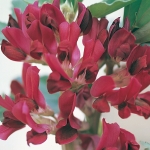 Add to Basket
Cat no: 0121
25 Seeds in packet
SOW: Feb - May, Oct, Nov
Availability: In stock