Calendula Playtime Mixed 1224b
Calendula Playtime Mixed
Calendula officinalis
Latin name
Marigold
Common name
A gorgeous new high quality hybrid mixture of bright, pastel and buff semi-double and double flowers with both dark and yellow centres.This new mix has won a Fleuroselect award because of its consistent quality. 1 1/2'. HA.
How to Grow Calendula from Seed
Calendula, sometimes called Pot Marigolds, brighten up your garden with zingy yellows, bright oranges and calming creams. Calendula is a member of the same family as daisies and chrysanthemums. The petals are edible and have a lightly bitter flavour, although the flowers have no fragrance.
Calendula add colour to borders and grows well in containers. As well as attracting beneficial pollinators and looking cheerful in a vase, Calendula is used in herbal medicine and as a dye plant.
Calendula is easy to grow from seed. It can be direct sown in the spring or autumn, or started indoors for transplanting in spring.
Rake the soil to a fine, crumbly texture and make drills 12mm deep and 30cm apart. Thinly scatter the seed into the drills and cover over with soil. Keep moist without over-wetting until established. Thin out the seedlings to about 30 cm apart. Rich soil and a full sun location will keep your Calendula blooming happily.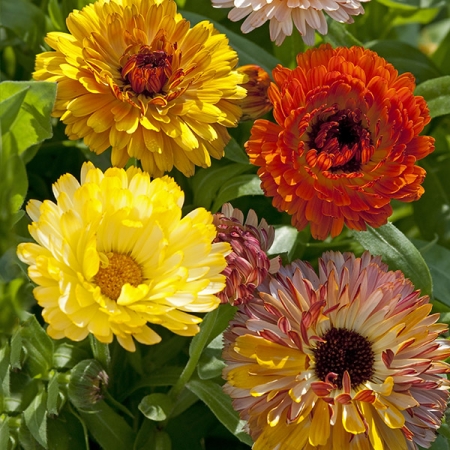 £2.50
Item Code: 1224B
Variety: Playtime Mixed
Type: Hardy Annual
Packet Contains: 100 Seeds
Sow: March - May, September
Germination: Up to 14 days
Harvest: May - October
In stock? Yes
£2.45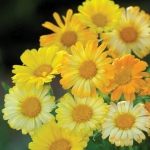 Add to Basket
Cat no: 1222
100 Seeds in packet
SOW: Mar - May, Sep
Availability: In stock
£2.45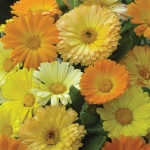 Add to Basket
Cat no: 1226
150 Seeds in packet
SOW: Mar - May, Sep
Availability: In stock