Cosmos Double Rose Bonbon 1357
Cosmos Double Rose Bonbon
Cosmos bipinnatus
Latin name
Cosmos
Common name
Delightful fully double pompom like rose-pink flowers. Long lasting and makes an absolutely perfect cut flower as the stems hold the flower heads upright. Useful for adding height to borders this delightful new Cosmos is our 2009 Flower of the Year. 24-36".
How to Grow Cosmos from Seed
Cosmos, sometimes known as the Mexican aster, is perennial in its native home but it's not hardy enough for our cooler climate and so in Britain it is grown as an annual. Cosmos is easy to grow from seed, performs well in containers or bedding schemes and comes in a dazzling array of colours, heights and flower types making it a firm favourite of both amateur and professional gardeners.
Drift or group planting produces an especially spectacular display and allows the plants to support one another too. Taller varieties do benefit from a little support, try growing Cosmos between perennials, alternatively growing cages or canes are ideal.
Sow Cosmos seed in trays or growing cells during early spring and cover with about 5mm of compost. The seeds are long and thin, so they can be easily handled.
Keep the compost moist without over-wetting and position seed tray in a warm and well lit position, such as a greenhouse or warm windowsill. Germination normally takes 14 – 21 days at 15 – 20C
When the seedlings are about 4 inches tall pot them on into individual 3 inch pots to grow on until the risk of frost has past, then harden off before planting out in your garden. Plant Cosmos in full sun and water well, then add a mulch to help conserve moisture.
Stake and tie Cosmos plants if necessary during the growing season, water regularly and dead-head to prolong the flowering season.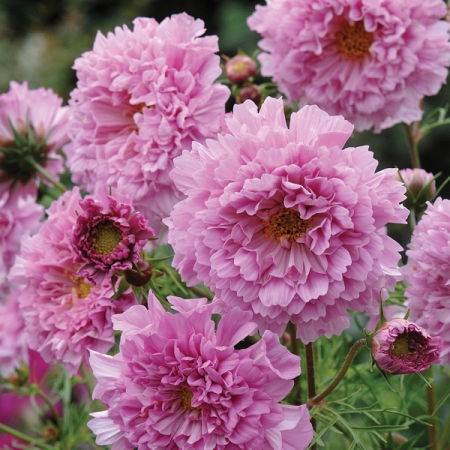 £2.95
Item Code: 1357
Variety: Double Rose Bonbon
Type: Half Hardy Annual
Packet Contains: 40 Seeds
Sow: February - May
Germination: Up to 21 days
Harvest: May - July
In stock? Yes
£2.75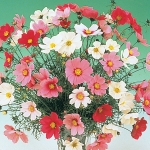 Add to Basket
Cat no: 1351A
100 Seeds in packet
SOW: Feb - May
Availability: In stock
£2.95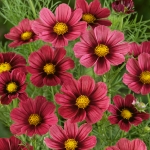 Add to Basket
Cat no: 1353A
40 Seeds in packet
SOW: Feb - May
Availability: In stock
£2.75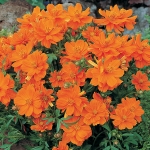 Add to Basket
Cat no: 1352A
100 Seeds in packet
SOW: Feb - May
Availability: In stock
Other Customers Also Bought
£2.95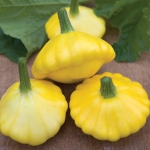 Add to Basket
Cat no: 0313D
10 Seeds in packet
SOW: Apr - Jun
Availability: In stock
£2.15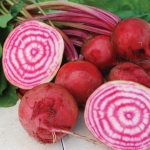 Add to Basket
Cat no: 0110
200 Seeds in packet
SOW: Mar - Jul
Availability: In stock
£2.40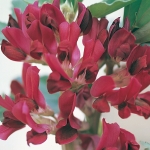 Add to Basket
Cat no: 0121
25 Seeds in packet
SOW: Feb - May, Oct, Nov
Availability: In stock