Nasturtium Ice Cream Sundae 1950
Nasturtium Ice Cream Sundae
Tropaeolum majus
Latin name
Nasturtium
Common name
This free flowering variety has a compact habit and holds its flowers above the dark green foliage. The flowers mature from bright yellow, through to scarlet and everything in-between. Perfect for pots and the edible flowers will not only brighten up a salad but the spicy and peppery flavour makes them delicious too. If you're looking for the WOW factor, then look no further!
How to Grow Nasturtium from Seed
Versatile, bright, bold, and edible; Nasturtiums will creep through your borders, climb through your trellis, spill beautifully over walls, trail exotically from your hanging baskets, brighten up your vegetable garden and add a colourful twist to your salad!
Easy to grow, and fast enough for children to enjoy planting, the whole plant is edible. The youngest leaves taste rather like watercress, the older leaves have a peppery heat and the flowers are deliciously sweet and spicy. Avoid overfeeding or overwatering Nasturtiums though, as this will result in more foliage than flowers.
Sow Nasturtium seeds indoors, in 6 inch pots allowing 5 or 6 seeds per pot, from February to March, or sow outdoors, directly where they will grow, from March to April. Germination normally occurs within 14 to 21 days at 70 – 75F
Pot grown Nasturtiums should be planted out early in May, allowing 18 inches between plants.
An occasional dousing in soapy water will help to deter blackfly.
Great companions - Nasturtiums make a good trap crop for aphids, deter whiteflies, and attract beneficial insects. Ideal for growing alongside brassicas, cucumbers, melons, radishes, and tomatoes.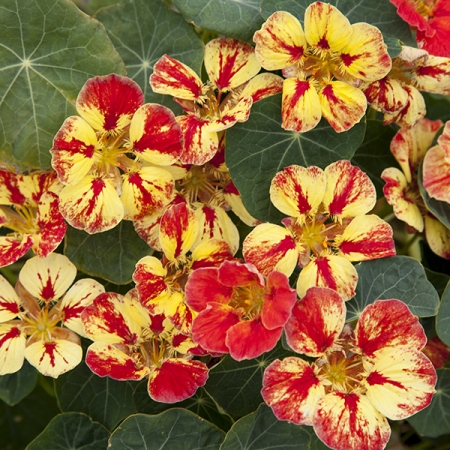 £2.85
Item Code: 1950
Variety: Ice Cream Sundae
Type: Half Hardy Annual
Packet Contains: 25 Seeds
Sow: February - May
Germination: Up to 21 days
Harvest: June - September
In stock? Yes