Bellis Bam Bam Rose 1185b
Bellis Bam Bam Rose
Bellis perennis
Latin name
Daisy
Common name
Large eye-catching blooms in a gorgeous shade of rose on neat, bushy plants with a naturally compact habit. Perfect for patio containers and window boxes and also ideal for the front border too. Flowering in the Autumn and often flowering again in the Spring too. 3-4". HP.
How to Grow Bellis from Seed
Bellis, or double daisies, are an extremely popular, vibrant plant and a familiar sight in the spring garden where they bloom repeatedly from late winter to late spring.
Perfect for use in small beds, borders and rock gardens, interplanted with spring bulbs and an excellent companion for pansies Bellis can also be used in window boxes and other containers.
Compact and easy to grow from seed Bellis is highly attractive to bees and butterflies when little else is available.
Bellis seed can be sown indoors in spring into pots or trays of moist seed compost and covered with a very fine sprinkling of compost or vermiculite. Keep at a temperature of between 15-20°C, 59-68°F). Do not exclude light as this helps germination. Keep the surface of the compost moist but not waterlogged. Germination normally takes 10-21 days.
When large enough to handle, transplant the seedlings into individual 3 inch pots to grow on. Gradually acclimatise to outdoor conditions for a couple of weeks before planting out, after October for winter flowering spaced 15cm, or 6 inches apart.
Bellis seeds can also be sown outdoors in the open ground or in a cold frame from mid summer to early autumn in soil enriched with compost. Sow seeds on the surface of the soil and keep moist until seedlings are established. Protect seedlings with a light mulch of straw until frost danger is past. Transplant in the autumn to their final positions where they will flower in spring the following year.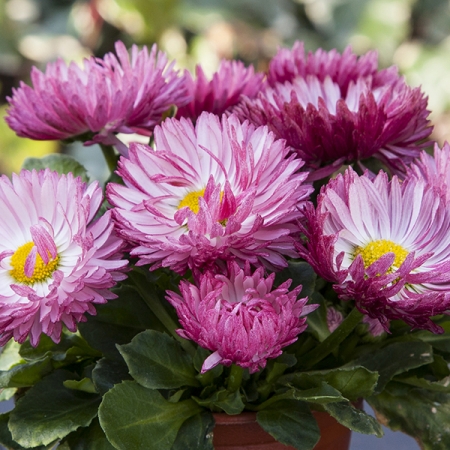 £2.65
Item Code: 1185B
Variety: Bam Bam Rose
Type: Hardy Perennial
Packet Contains: 50 Seeds
Sow: March - June, September
Germination: Up to 21 days
Harvest: April - June
In stock? Yes